Aerosol cans and dispensers are widely used for the application and use of products such as cosmetics, lubricants, paints and coatings, medications, foam insulation material, fragrances, cleaners, and cooking oils. This popular form of product packaging is a sophisticated, pressurized system which takes into consideration not only the aerosol can and dispenser design and manufacturing, but also the product formulation, transportation, storage, and end-user interaction with the system.
Unfortunately, incidents involving aerosol cans and dispensers can result in serious injury and/or property damage. Professional Analysis has conducted numerous investigations involving aerosol dispensers, including: analysis of the mechanical design of the aerosol dispenser, materials of construction, product formulation, and potential failure mechanisms.
Our aerosol can testing experience also includes environmental studies on the aerosol dispenser system to understand the impact of temperature and corrosives on the system. Department of Transportation (DOT) pressure/temperature testing, and drop and impact testing, have also been utilized in cases where user misuse and/or abuse are alleged.  This temperature testing also evaluates the burst potential of an aerosol dispenser or aerosol can being left in a hot vehicle.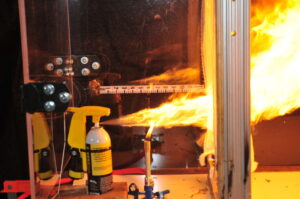 We have testing equipment to support product testing for can manufacturers, fillers, and product manufacturers.  This includes drop testing, side impact evaluation, water bath testing, buckle and burst testing, and flame projection and flashback testing.
Our Aerosol Can Testing experience and services include:
Pressure / temperature analysis
Over-pressure testing for buckle and burst
Product misuse / abuse analysis
Impact failure
Materials analysis
Fracture / impact mark analysis
Projectile analysis
Our Aerosol Can Testing Capabilities include:
Metals / materials analysis
Product formulation analysis
Pressure burst test (DOT 2Q and SP 10232)
Dispenser drop / impact testing
Hot water soak test
Pressure / temperature testing
Over-pressure testing
Enclosed space combustion test
Flame projection testing
Flashback testing
Contact the aerosol can testing experts at Professional Analysis for more information.
Staff: